September 15th, 2023 - The Ethereum Merge
Price on day of merge: ~$1,600
ETH supply day of merge: 120,521,141
Fear & Greed Index Reading day of merge: 23 (FEAR)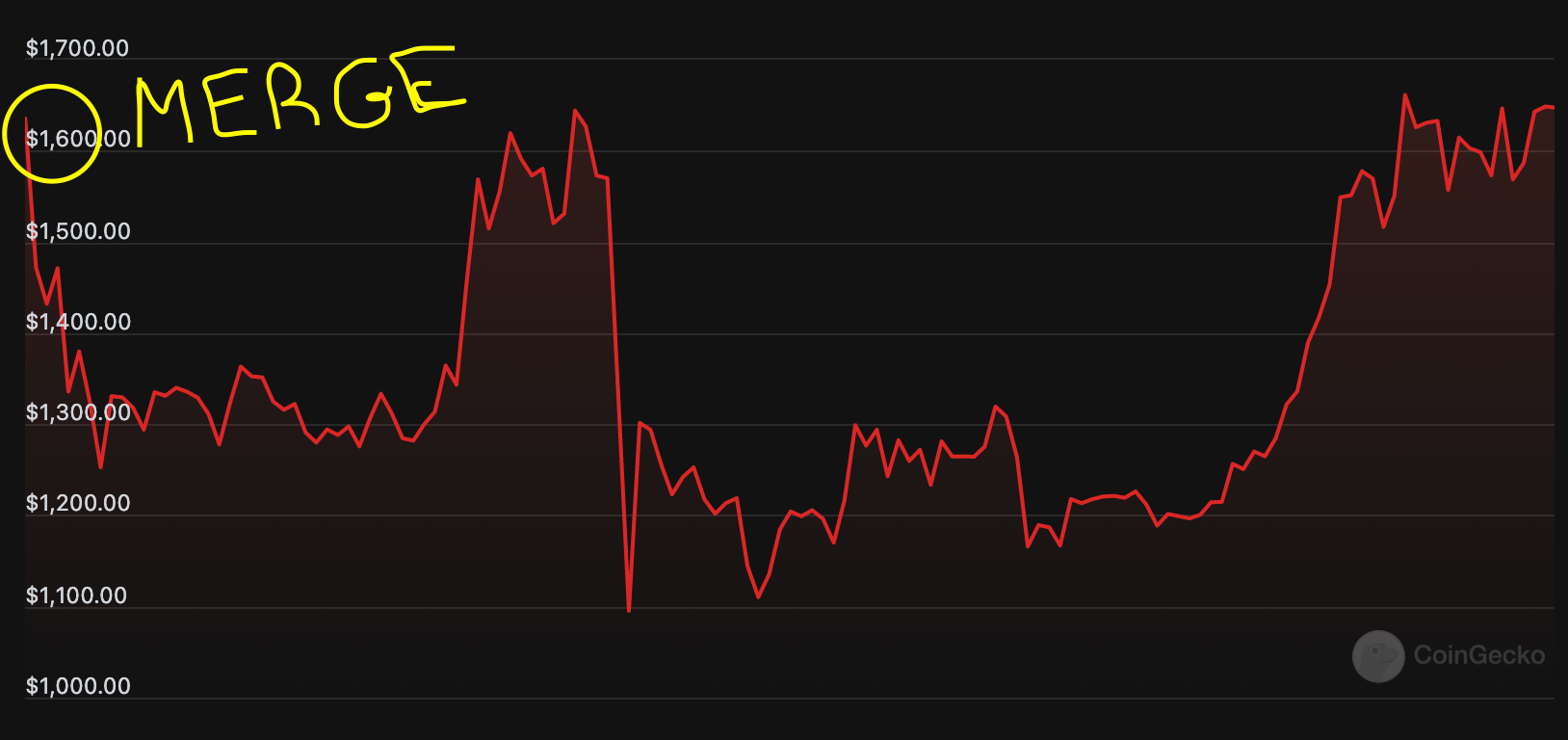 The so called "Merge" was one of, if not the biggest events in crypto history.
Some even called it an impossible feat prior to its implementation, because of how difficult it was, many compared it to "swapping an airplane engine mid-flight"
But the Ethereum developer community once again proved it was not to be faded, in the late hours of the night in America, and early morning hours in Europe, the Ethereum blockchain, which was securing billions of dollars of value at the time, transitioned to proof of stake, proving many wrong.
5 Months Post-Merge
The price of ETH took a little dive right after the merge, as speculators we're screaming "sell the news", seeing lows of $1,300, just days after the big transition.
Then the infamous November day took us all by surprise, the FTX bank-run, sending the crypto markets down, as we saw ETH touch $1,000 nearly.
It was hard to be bullish, the last 2 months of 2022. It felt like everything was burning down, but in hindsight, that may have been the lowest of lows for us because of the ensuing arson SBF had set on the already beaten up industry.
The Recovery
The bulls came out swinging in 2023, in the first month of the year, ETH rallied 35%, breaking through that $1650 mark which we hadn't seen since the night of the Ethereum merge.
4 month high all of a sudden felt like a 1-year high.
Boom, just like that, we're now back at the levels prior to the FTX melt-down.
Feels good.
The Supply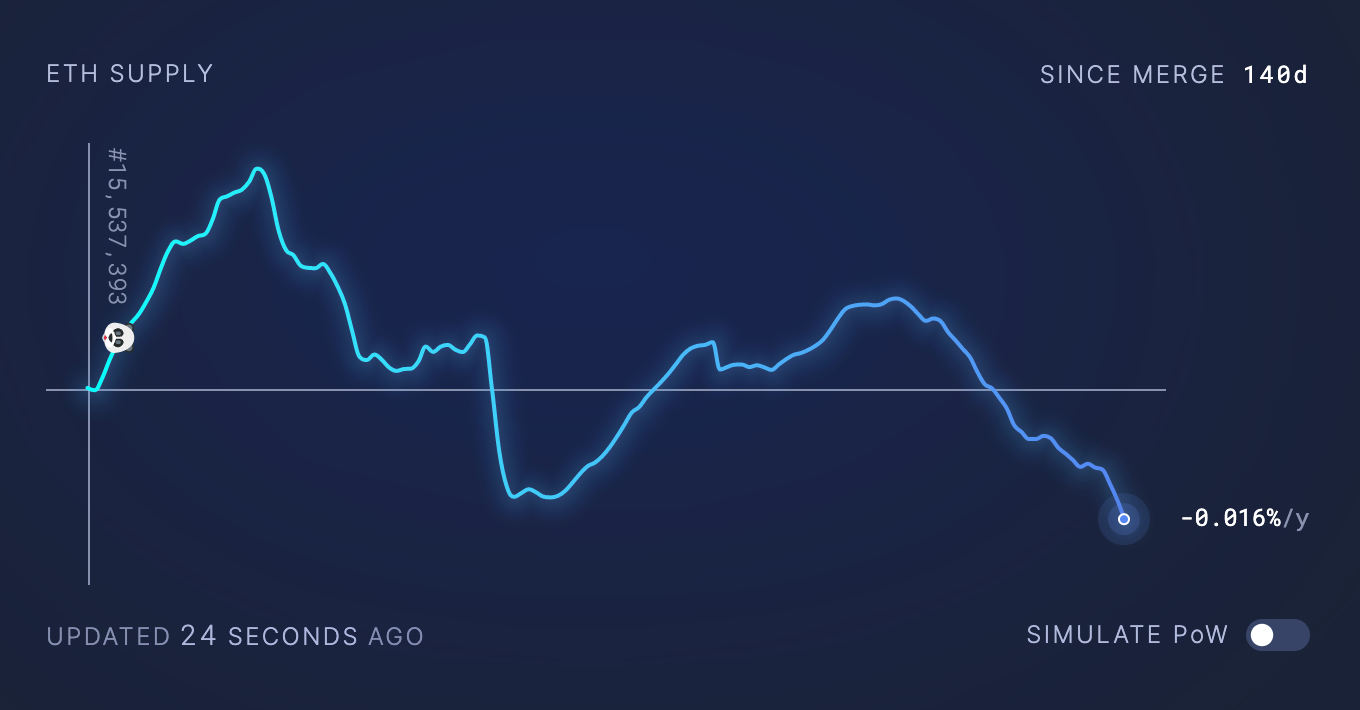 Perhaps the only chart ETH holders want to see going down and to the right.
140 days after the Merge, the Ethereum supply is shrinking and at an all time low since we merged.
Day of merge, the ETH supply was: 120,521,141
Today, February 2, 2023, the ETH supply is: 120,513,722
The ETH supply has shrunk a total of ~8,000 ETH ($13 million)
If you are not an Ethereum nerd like us, here's why the ETH supply is shrinking:
A burn mechanism was introduced in Aug. 2021
This mechanism burns a chunk of ETH every time someone pays ETH to transact on Ethereum.
The merge reduced the annual issuance of new ETH coins by 90%
Combine these two, and you have a shrinking, deflationary supply.
---
2023 is off to a great start so far.
Can we keep it up? Well, it's hard to match the pain which 2022 brought onto us, so we think we in fact, can keep it up.
Happy HODL'ing!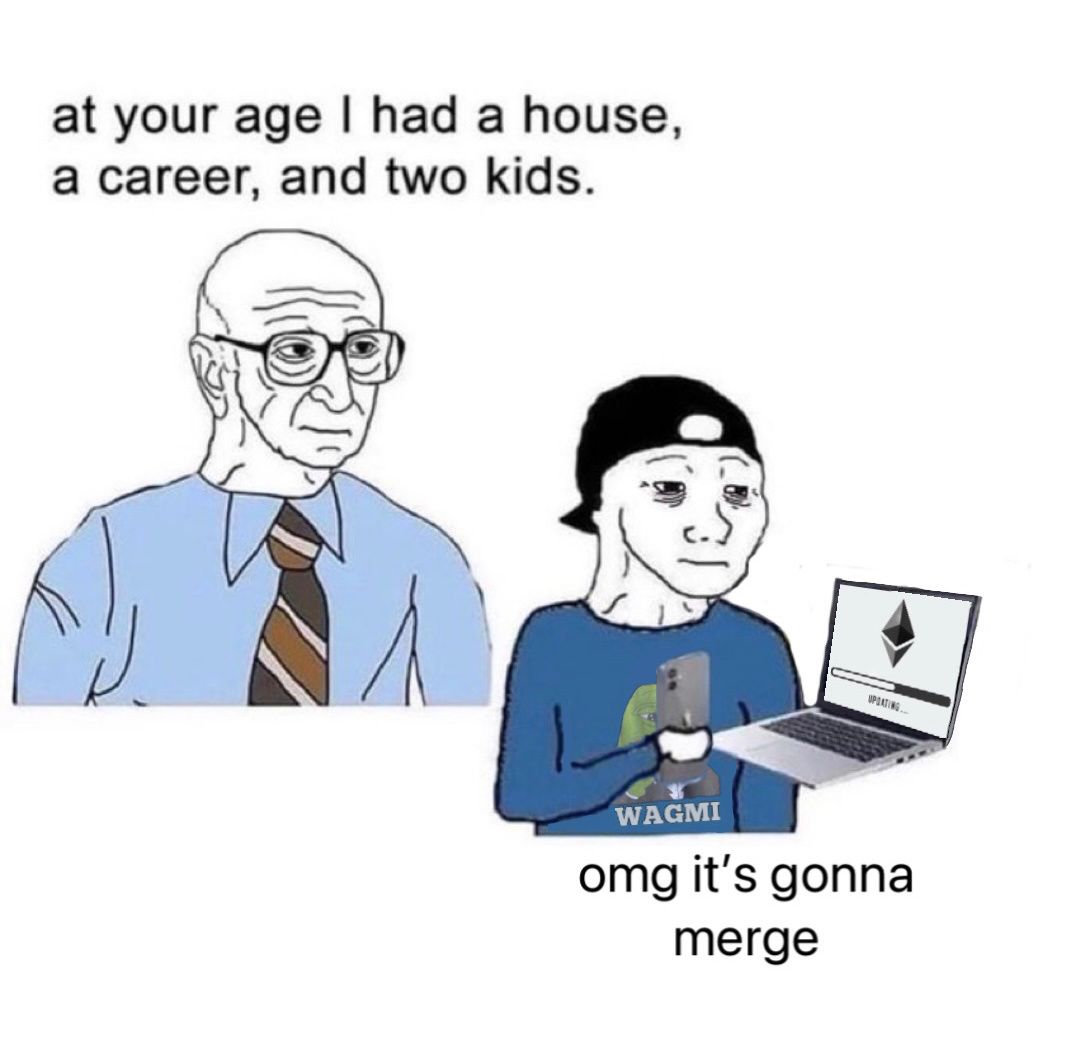 ---
Subscribe
Join the newsletter to get the latest updates.
---